Jeg ønsker heller å se igjen kunden og selge bil til den samme kunden flere ganger, i stedet for å pushe på kunden en bil de egentlig ikke ønsker.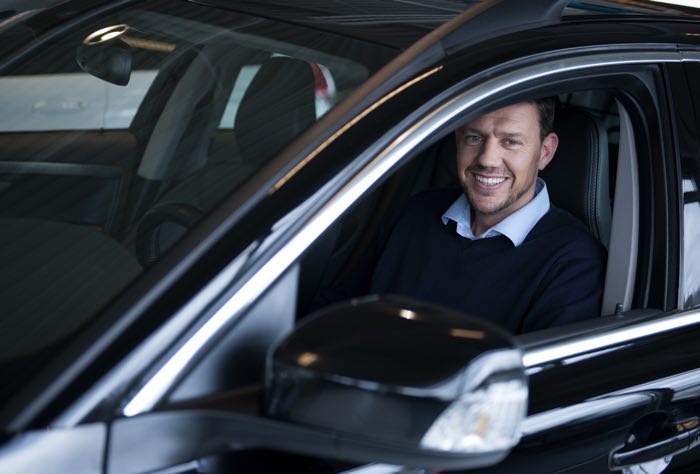 Det er hyggelig å se kunden igjen og se at han eller hun er fornøyd, sier Henrik Paul, som er bilselger i vår bruktbilavdeling.
Fått kvota
Faren til Henrik og begge onklene har i alle år jobbet som bilselgere. Med andre ord falt ikke eplet langt fra stammen.
– På en måte angrer jeg litt på at jeg ikke gikk «mekken» på videregående. Men det var ikke det man forventet, sier han, som stortrives med å selge bruktbil.
– Jeg valgte å gå allmennfag på videregående, fordi jeg ikke visste hva jeg ville bli. Så gikk jeg i militæret, fortsetter han.
– Etter et halvt års tid i Nord-Norge kjente jeg at jeg hadde fått kvota. Men det er moro å se tilbake på den tiden.
Henrik har vokst opp på Klavestadhaugen i Sarpsborg. Faren hans jobbet som bilselger i Oslo, Sarpsborg og Fredrikstad. Henrik har også jobbet på Toyota Alnabru i Oslo og for Toyota Østfold i Sarpsborg før han «landet» hos oss i Jensen & Scheele.
Han minnes godt den første bilen han solgte. Det var en grønn Renault Kangoo.
Raskere handel
– Jeg trives godt i bransjen. Grunnen til at jeg havnet her hos Jensen & Scheele er blant annet fordi jeg kjente til Tore Engjom, leder på bruktbilavdelingen, fra før. Og hadde ikke noe imot å jobbe mer sammen med ham. Han er en allright type. Så har jeg jo kjent til Jensen & Scheele, og stort sett bare hørt positivt, begrunner han.
Å selge bruktbil blir noe annerledes enn salg av nybil.
– Det som er litt gøy er at hver bil er unik. Kundene er hyggelige. Ofte blir det raskere handel fordi bilen kan være solgt i morgen.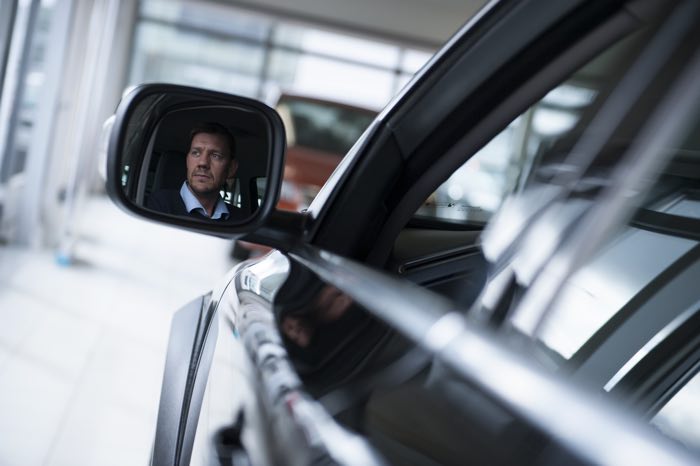 Henrik bor i Sarpsborg med kone, to jenter på fem og åtte år, katt og tre høner.
– Jeg driver og bygger nytt bad nå faktisk, for å være litt i forkant, smiler han.
Fritiden går hovedsakelig med til hus og hage og litt mosjon, ved siden av kone og barn. Jentene hans er aktive og driver med håndball, klatring og teater, så det er nok å drive med både i hverdagene og i helgene.
– Men å være bilselger går utover familielivet. Det er lange dager. Så kona mi tar seg av kjøring til og fra trening.
Dårlig taper?
Selv prøver han også å holde seg i form. Om vinteren liker han å stå på ski. Nå, på denne tiden av året, er det sykling som gjelder.
– Før hadde jeg en «offroader», men nå prøver jeg meg på landveissykkel for første gang.
Han skal være med på Grenserittet. Men påstår at han ikke er noe konkurransemenneske.
– Målet er ikke å være dårligere enn året før. Men det er klart når en først har fått på seg startnummer, så er det gøy å slå kameratene mine! I hvert fall noen av dem, legger han til.
En dårlig taper påstår han ikke å være.
– Nei. Jeg bare later som jeg ikke er noe konkurransemenneske.
– Jeg er heller en dårlig vinner.
Sandslott i Spania
Henrik  er ærlig. Kanskje for ærlig noen ganger. Han er opptatt av at folk rundt ham skal ha det bra og liker å by på seg selv. Han er også opptatt av å være en god far.
Henrik er også et båtmenneske, men lidenskapen for seilbåt valgte han å legge på hylla da barn nummer to var kommet til verden. Før var han aktiv i Sarpsborg Seilforening.
– Nå bruker vi sommeren på Resö, hvor vi har campingvogn. Det er bra for barna. Der er det mange barn de kan leke med og ellers være kreative selv. Så det fungerer bra for oss nå. I tillegg har min mor en leilighet i Spania, så da er vi garantert fint vær, bygging av sandslott og spille ball. Er litt for rastløs til å ligge på stranden.
I tillegg brukes leiligheten i Spania som base for sykkelturer med guttegjengen.
– Det er utrolig fint å sykle rundt omkring på landsbygda i Spania, avslutter Henrik.