Under panseret på Volvoen gjemmer seg en svenske som er veldig glad i rock.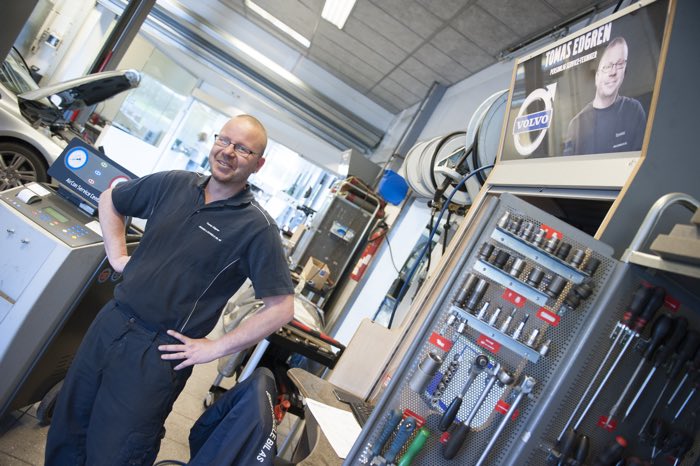 Svenske Tomas Edgren kjører 17 mil hver dag for å skru på Volvoer i Norge. En selvmotsigelse, kanskje?
– Før jobbet jeg for Bröderna Brandt i Bengtsfors. Det er en stor Volvo-forhandler. Jeg jobbet der i ni år før jeg startet hos Jensen & Scheele Bil for tolv år siden. Siden har jeg pendlet.
Han starter 7.30 om morgenen, og må reise hjemmefra rundt kvart over seks. Han «tycker att det går bra».
Skruing
– Jeg kjører V60 så det går bra. Arbeidstiden er lengre i Sverige, så det blir ikke så stor forskjell. Den gang jeg startet hos Jensen & Scheele var kursen veldig bra, så da lønnet det seg å jobbe i Norge, sier en sympatisk bilmekaniker som trives veldig godt på jobben.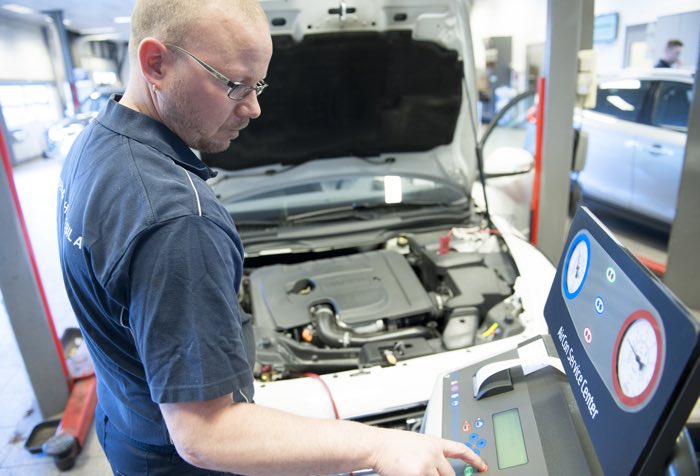 Tomas inngår i teamet av «Personlig Service Teknikere». Det innebærer mye kundekontakt.
– Det er mange forskjellige mennesker. Jeg synes det er «trevligt» å ha kontakt med kundene. Det er med på å gjøre arbeidsdagen variert. Ingen dager er like.
Selv om det tekniske blir mer og mer avansert i bilene, består arbeidsdagen til Tomas og de andre bilteknikerne hos oss likevel av en del skruing.
– Det går mye i service og feilsøking. Sistnevnte blir det egentlig bare mer og mer av. Bare i løpet av den tiden jeg har jobbet her har mye forandret seg. Men likevel er det mer skruing enn man kanskje tror. Slitasjedeler som for eksempel bremser er fortsatt en del av hverdagen vår.
Bra i Sverige
Med verkstedet fullt av flotte Volvoer begynner man kanskje å lure på om det er mye feil med bilene.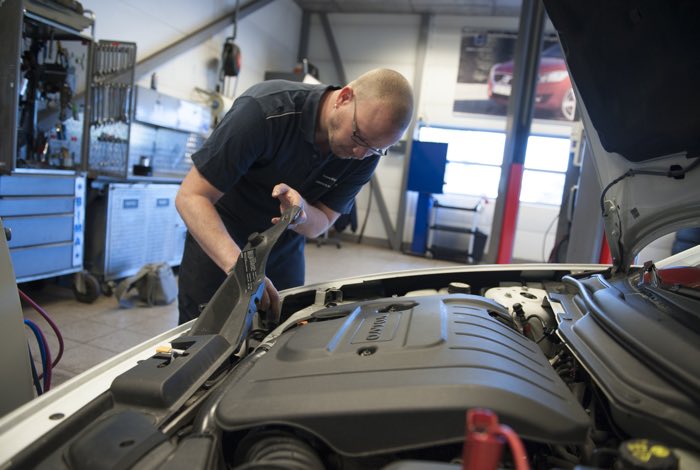 – Mye av jobben vi gjør er servicer. Det er faktisk veldig lite feil på bilene. Så skal det sies at Volvo er veldig nøye på tilbakekalling av biler dersom det skulle være en feil som går igjen for eksempel.
Når Tomas ikke er på jobb, eller i sin V60 på vei til og fra jobb, koser han seg hjemme med kone og barn. Paret har to jenter på seks og ni år. Å flytte til Norge har familien ingen planer om.
– Det er bra i Sverige, og her har vi familie rundt oss. Så nei, vi kommer nok ikke til å flytte til Norge.
Rock
På fritiden liker Tomas å spille innebandy. Tidligere drev han aktivt, men av naturlige årsaker blir det ikke så mye tid til det lenger.
Det han derimot gjerne prioriterer er gutteturer til rockefestivaler både i Sverige og i Norge. «Sweden Rock» og «Tons of Rock» på festningen synes han er helt topp.
– Å dra på festivaler er noe helt spesielt. Særlig hvis været er bra da. Er det dårlig vær er det ikke like trivelig. Jeg var på «Tons of Rock» i fjor også og det ga mersmak, sier svensken som nettopp har fått nok en heftig rockeopplevelse i Halden.