Problemer med bilen? Vår tekniker Raymond Johansen fikser den!
Mye av arbeidstiden bruker han under panseret på en Volvo. Elektronikk er fagfeltet til Raymond. Har Volvoen din et problem, da er det stor sjanse for at han finner ut av feilen og får den fikset.
Bremseklosser og girkasse
Man skulle kanskje tro at mannen er utdannet bilmekaniker, men det er han ikke. Likevel ble han kåret til årets Volvo-tekniker i 2014. En gjev konkurranse med krevende tekniske oppgaver. Det er imidlertid ikke bare elektronikk han er god på.
– Det handler også om å tolke kunden riktig. Ofte har kunden ikke peiling på bil selv, så da er det viktig med en god dialog for å kunne finne ut hva som er problemet med bilen, forklarer Raymond, som jobber med "uplanlagte ting", som han selv kaller det.
Han er utdannet innen elektronikk og er dermed ikke del av vår gjeng av "personlig service teknikere". Men han er en viktig brikke på verkstedet vårt. Arbeidsdagen hans er variert.
– I dag byttet jeg bremseklosser på en taxi. Før det brukte jeg to dager på å bytte en girkasse. Jeg har ikke to like dager på jobb og trives godt med det. Det er gøy når det skjer mye på jobben og det er litt armer og ben. Så er jeg opptatt av at alt skal gå så smidig som mulig. Det er jo vår ledestjerne, at vi virkelig skal legge oss i selen for at kunden skal bli fornøyd, smiler den sympatiske 40-åringen.
En gammel Porsche
40 år, kan det stemme? Han kan jo se ut som om han er i 20-årene.
– Du er ikke den første som sier det. Før var det kanskje ikke så heldig at man så yngre ut. Men nå har det sklidd over i å være stas!
Før Raymond begynte hos oss i Jensen & Scheele jobbet han hos Leif Grimsrud og reparerte anleggsmaskiner.
Før det igjen jobbet han blant annet hos det som i dag heter Axxe på Sørlifeltet.
– Der jobbet jeg også med elektronikk, men på en helt annen måte enn jeg gjør i dag.
Fremtidsplanen er klar: han skal utdanne seg til å bli bilmekaniker.
Som mange andre ungdommer visste han ikke helt hva han skulle bli, men valgte å gå elektro på Porsnes i Halden.
– Jeg har alltid vært interessert i bil og motorsykkel. Den første bilen min var en Volvo Amazon. Den kjøpte jeg som vrak og pusset opp, forteller han og innrømmer at han aldri har vært en «die-hard Volvo-fan».
– Det ble noen timer med sveising og skruing. I dag har jeg en gammel Porsche, en '86-modell. Men det blir mest drift og vedlikehold. Det er en morsom bil å kjøre.
Kiting
Ellers har han en Mitsubishi Pajero som bruksbil, eller «slengebil», og en Volvo V60. Det er helt riktig at bil utgjør en stor del av livet til Raymond. Men det er mye annet han gjerne bruker tid på. Han har nok å henge fingrene i også etter arbeidstid.
Han bor på Gimle sammen med samboer, barn og to bonusbarn. I yrket hans er ugunstig arbeidsstilling et ikke ukjent fenomen. Derfor liker han å holde seg i form. Trene på Family Sportsclub i Halden, sykle litt og generelt være aktiv ute. Vinterstid er det snowboard og fjellturer som gjelder. Om sommeren er det båt. Og kiting.
Når våren melder sin ankomst for alvor er Raymond og vennegjengen klar for å dra til Rossö.
– Å drive med kiting er den store interessen. Men mye skal stemme for å få det til. Været skal være allright, og det skal blåse passe mye og riktig vei.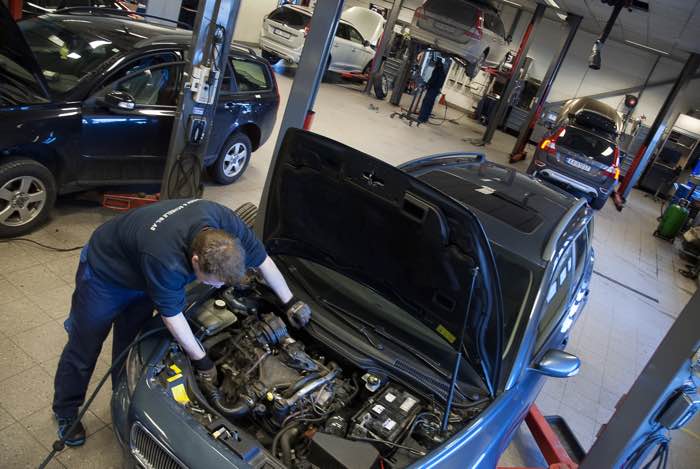 Raymond i sitt rette element på jobben.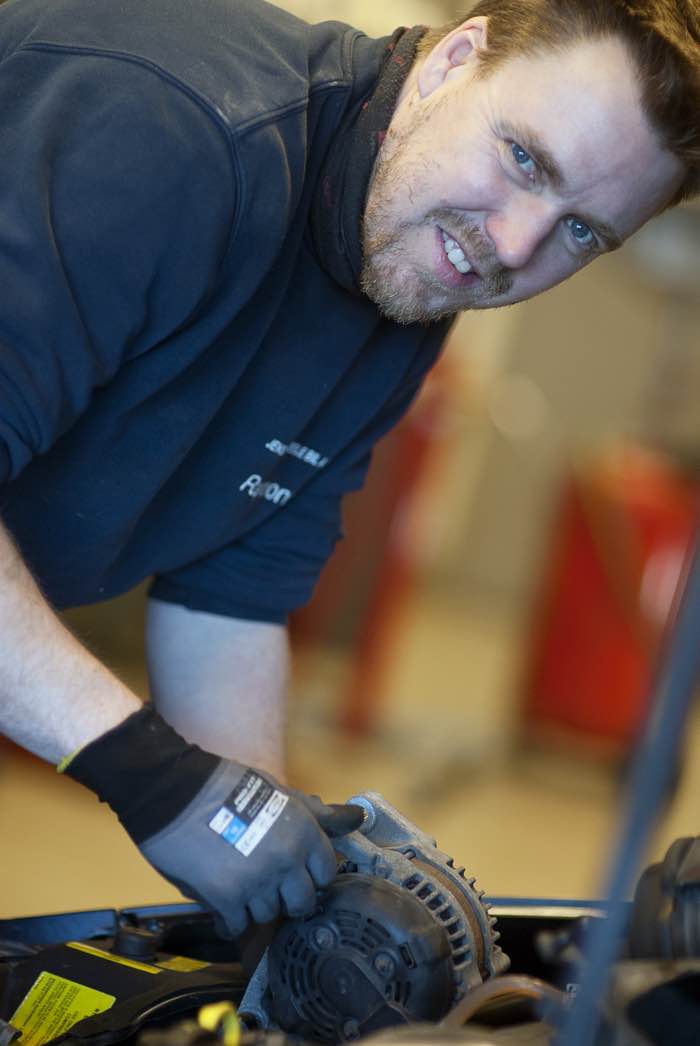 – Man blir vant til at det er trangt under panseret på en moderne bil, sier Raymond, som her holder på å bytte dynamo på en bil.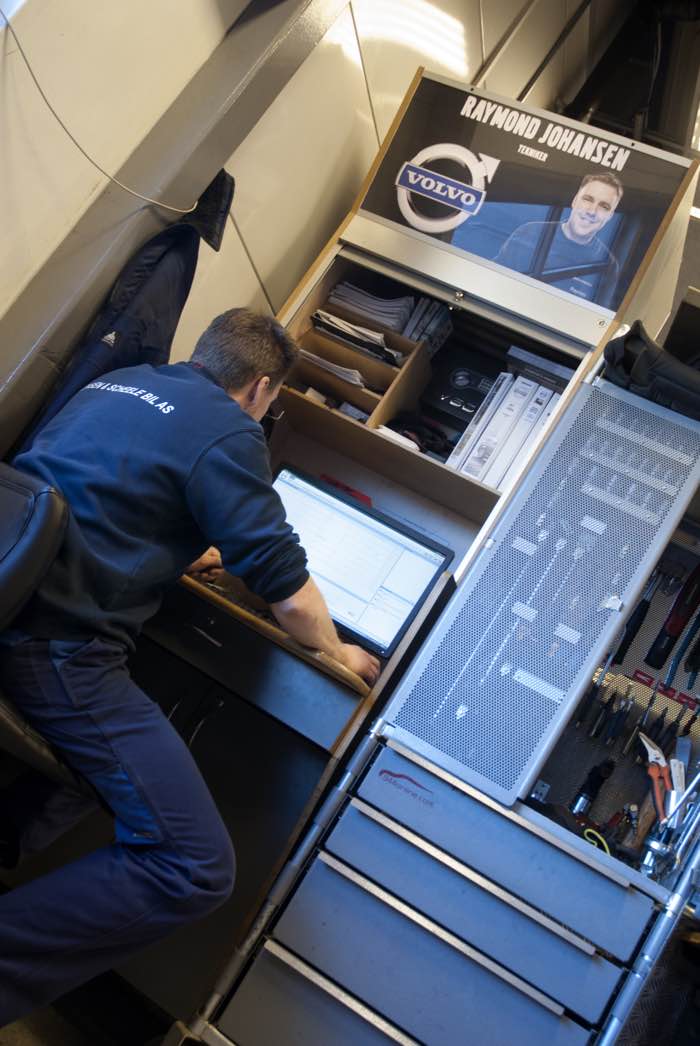 Raymond er utdannet innen elektronikk og jobber som tekniker, men satser på å bli bilmekaniker i tillegg.