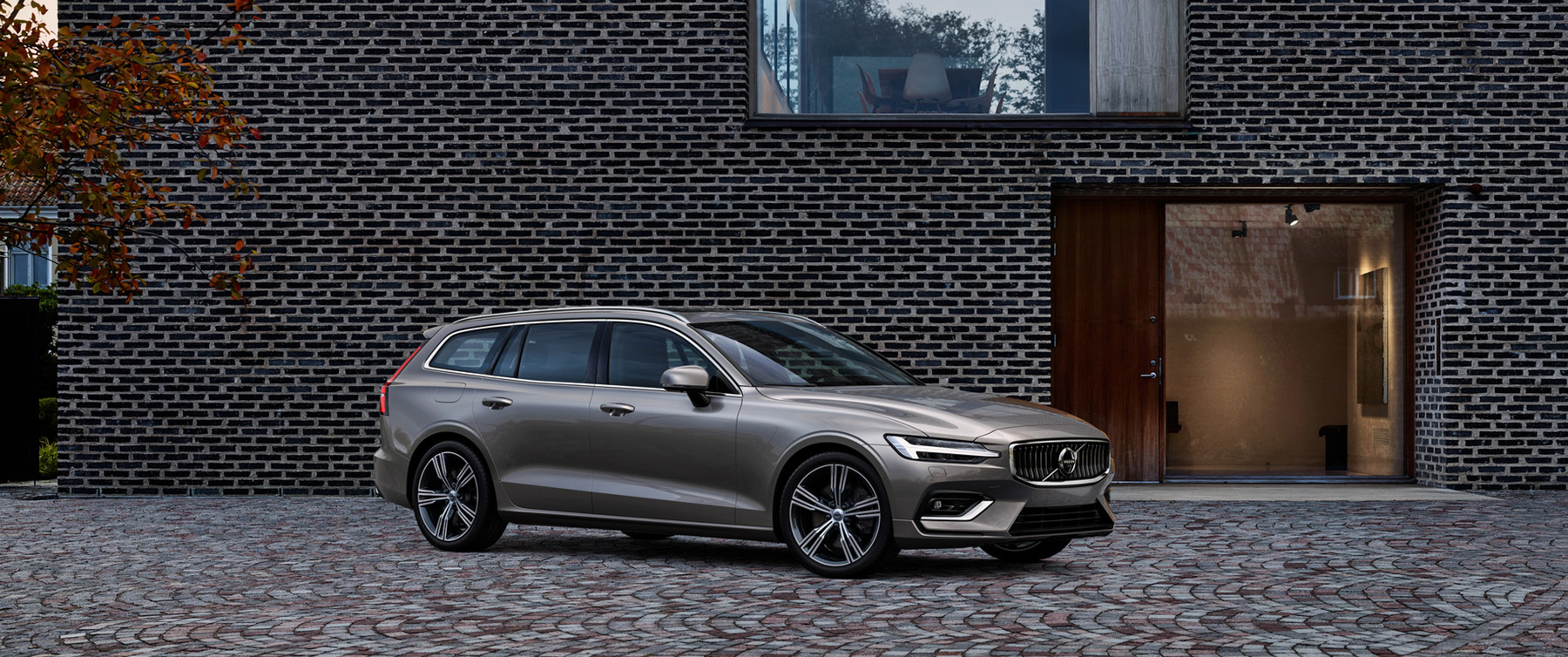 VOLVO V60
Volvo V60 er en allsidig familiestasjonsvogn med avansert chassis, kraftige motorer og flere kjøremoduser. Innvendig er skandinavisk håndverk kombinert med smart teknologi for å gi deg en engasjerende kjøreopplevelse. De nøye utformede detaljene fra den storslagne frontgrillen til de skulpturerte sidene understreker bilens atletiske karakter.
Interiøret i Volvo V60 bygger opp under en aktiv livsstil. Den nedfellbare bakseteryggen har en praktisk 60/40 deling, hvor hver enkelt del kan felles ned for å skape et praktisk og helt flatt bagasjerom. Med et lastevolum på 529 liter er bagasjerommet i nye V60 et av de største i sitt segment. 
KONTROLL TIL FINGERSPISSENE
Mange av funksjonene i nye V60 styres fra senterdisplayet med berøringsskjerm. Senterdisplayet er designet for å redusere distraksjoner, og har en tydelig grafikk og et vertikalt format som gjør det enkelt å lese trafikkinformasjon og kart. Berøringsskjermen er på 9″ og har et spesialbelegg som reduserer gjenskinn og automatisk justerer lysstyrken etter lysforholdene. Talestyringsfunksjonen i nye V60 lar deg betjene klimaanlegget, navigasjonssystemet og medie- og telefonfunksjoner ved å snakke til den.
PLUG-IN HYBRID
Nye V60 kommer med to forskjellige plug-in hybrid motorer, T6 Twin Engine med en samlet effekt på 340 hk, samt den noe større T8 Twin Engine som genererer 390 hk (405 hk i Polestar Engineered-utgaven).
Plug-in hybrid motorene har et kjøremodus som passer alle behov:
Pure – benytter bare den elektriske motoren og har null-utslipp av CO2.

Hybrid – benytter enten bensinmotoren, den elektriske motoren eller en kombinasjon av de to for å maksimere ytelsen.
POLESTAR ENGINEERED
Polestar har bakgrunn fra Volvos satsing på bilsport, da Volvo i 1996 inngikk et samarbeid med Jan «Flash» Nilsson og Flash Engineering om å drive Volvos racing team. Polestar-navnet kom til i 2005 og symboliserer den iskalde, nordlige delen av Sverige og spiller også på det engelske ordet, pole position, som er beste startspor i et billøp.
I 2017 slapp Volvo Cars og morselskapet, Geely Holding, nyheten om at Polestar skulle etableres som et stand-alone bilmerke, med fokus på helelektriske biler.
I dag blir «Polestar» benyttet i tre ulike sammenhenger, Det nevnte bilmerket, Polestar, samt Polestar Engineered (Volvos in-house-avdeling for ekstra spreke biler) og Polestar-optimering (fabrikkgodkjent trimming av Volvo-motorer på nye og brukte biler).
VOLVO V60 POLESTAR ENGINEERED
En Volvo V60 Polestar Engineered er bygget på T8 R-Design. Den har høyere ytelse, mer sportslige kjøreegenskaper og egne designelementer, som skiller den fra standardbilen. Her sitter du godt i velkjente R-Design sportsseter, mens hendene hviler på det lekre sportsrattet. En Volvo Polestar Engineered har ellers unikt utstyr, optimalisert for ytelse og respons.
En standard Volvo V60 gir deg en behagelig og god kjøreopplevelse. Det gjør også V60 Polestar Engineered. Men i denne utgaven får du i tillegg en bil hvor det er lagt ekstra vekt på de sportslige kjøreegenskapene. Ved hjelp av en bryter ved giret kan du velge mellom forskjellige kjøremodus, fra vanlig hybrid-modus til Polestar Engineered-modus. Bilen endrer da karakter ved at det sendes mer moment til bakhjulene samtidig som gassresponsen påvirkes. I tillegg girer bilen kjappere og den holder på giret lengre når du slipper gassen. Dette, sammen med med justerbare Öhlin-dempere og kraftige Brembo-bremser, gir deg en Volvo som er veldig inspirerende å kjøre.
Designmessig skiller den seg fra en standard V60 med sort grill med ribber i rutemønster og høyblank, sort ramme. Volvos jernmerke og diagonal i silk metal. Fremre spoiler i R-Design-utførelse, med høyblank sorte lister i i fremre spoilers luftinntak. Lett synlige, gullfargede bremsekalipre og elegante Polestar Engineered emblemer foran og bak på bilen. Se bilder nedenfor.
UTSTYRSLISTEN PÅ POLESTAR ENGINEERED OMFATTER BLANT ANNET
Polestar effektoptimering fra fabrikk. Dette øker effekten fra 390 til 405 hk. 

Dreiemoment på 670 Nm.

0-100 km/t på 4,6 sekunder.

Unike 19″ Polestar-hjul med 235/40 R19-dekk (tilvalg, 20″ med 245/35 R20).

Gullfargede Öhlins støtdempere, justerbare og med dual-flow-ventil.

Brembo-bremser foran med halvt flytende skiver og gullfargede bremsekalipre med 6 stempler. Conti-bremser bak, også disse gullfargede.

Fjærbeinstag i aluminium, for avstiving mellom fremre hjulhustårn.

Doble enderør i svart krom med inngravert «Polestar Engeneered»-logo.

Gulfargede sikkerhetsbelter.

Valgfri kjøremodus, inkl. Polestar Engineered-program

High performance PRO audio by Harman & Kardon
For mer detaljer om utstyrsversjoner, forbruk og utslipp se Volvos nettside.